Soy Candle Burning Safety Tips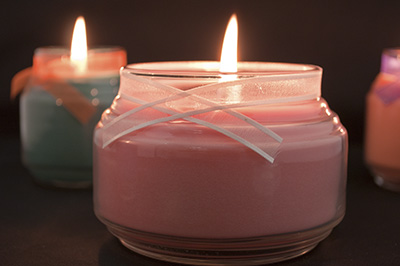 The best thing about the candles is that no matter how tired and exhausted you may be feeling, but when you lighten a candle, it can easily take away all your tensions and headaches within seconds. However, most of us do not realise that by using the traditional paraffin wax candles, we are actually providing ourselves more harm rather than any good. The gases and other harmful substances that these paraffin wax candles release on burning are extremely dangerous and adversely affect our health. One of the best ways to overcome this situation is using natural scented soy candles.
Our handmade soy candles not only provide you the soothing and relaxing experience that candles are known for, but also provide you all these benefits in a much healthier way without adversely affecting our environment. Many users who have recognised the hazards associated with the traditional candles have switched over to Christi's Creative Scents. Since many users are new to soy, they don't know how to use a candle correctly to get the most out of it and to extend its lifespan. With this in mind, here are few simple, yet effective candle burning tips to use your candles in the best possible way. These candle burning tips will not only provide you the best burning practices, but also inform you about how to use scented soy candles safely to avoid any accidents.
Watch the candle burning time: To improve their efficiency, you have to burn the scented soy candles only up to the point when the soy wax completely covers the top most part of the soy candles. This will prevent the soy wax from falling down and going to waste.
Keep candles away from the wooden furniture: Wood is an extremely inflammable material and catch fire easily. Therefore, never try to burn these scented soy candles on wooden furniture.
Always keep the candles on a stable surface: This will prevent the candles from falling down and cause unforeseen mishaps.
Don't use soy candles to deal with the darkness: In case of darkness, always use a torch or a flash-light instead of candles because there is always the risk of falling down, which can even lead to serious accidents.
Choose length of the trimmed wick wisely: The wick should be trimmed only up to 0.25 inches, and if it's shorter, always make sure that you trim it every time up to this length before burning the candle. It will also prevent the flame from reaching excessive heights, which can be dangerous.
Refrigerate your candles: Though it may sound silly, the technique is extremely effective. Refrigerate your soy candles, 2-4 hours prior to burning them. It will prevent the soy wax at the sides of the candles from melting during the time of candle burning.
Read the instructions carefully: Our candles come with usage instructions; it's a good idea to read these instructions carefully. This is essentially a one-time procedure and this knowledge about candle burning tips and about their usage will help you for your whole life, in order to use handmade soy candles more safely and efficiently.